Stand Up
Paddle
Boarding

Paddle Board Lessons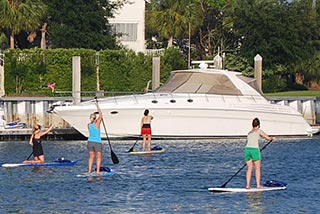 What is Paddle Boarding?
If you are looking for a new way to enjoy the beaches and waterways of South Carolina stand up paddle boarding "SUP" is for you. It's like surfing without needing a wave, and paddling without needing a boat. We offer both paddle board lessons and equipment rentals, however we recommend wearing some sort of water ready footwear to avoid the oysters and anything sharp or pointy on the bottom.
Paddle boarding is a full body workout as intense as you want to make it. There are 3 distinct styles of stand up paddle board riding. Flat water paddle boarding is done on calm flat water, perfect for matering your technique and seeing the sights. There is also wave paddle boarding and downwinder stand up paddle boarding. Both wave and downwinder paddle boarding take place on the SC coast. The major difference between wave and downwinder paddle board excursions is that either the waves wind or both assist you in your journey. Ride a wave then paddle out for the next one, or let the wind at your back gently nudge you down the charleston shorline.

Stand Up Paddle Boarding Lessons
We offer quality equipment and a great location for flat water and ocean access perfect for anyone interested in learning how to stand up paddle board. Call or click to book your lessons with our profesional instructors. We have both personal private lessons or learn in a group. We will get you up in no time and go over all the fundamentals of stand up surfing whether you desire to paddle flat water in the creeks or want to learn how to ride waves or paddle downwind in the open ocean.

Warning: mysql_query(): Access denied for user ''@'localhost' (using password: NO) in /home/tidalwavewatersp/public_html/stand-up-paddle-boarding.php on line 249

Warning: mysql_query(): A link to the server could not be established in /home/tidalwavewatersp/public_html/stand-up-paddle-boarding.php on line 249
thumbs query